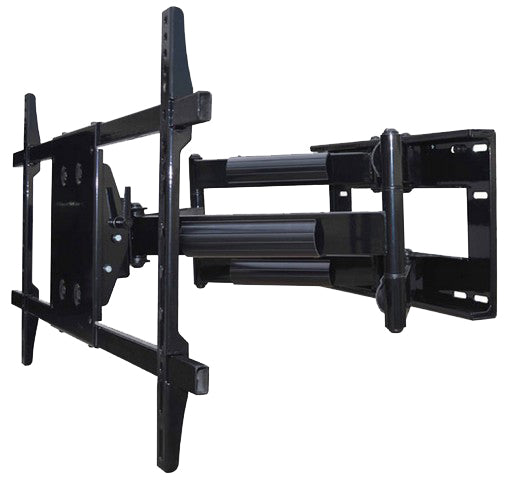 36" extension Articulating Wall Mount to 75", Vesa 800x400

This New Solidmounts Universal Articulating mount supports amazing 36" extension from the wall for most flat panel displays. The cantilever mounts offer maximum adjustability with a 36" Arm, including horizontal extension, 180º of lateral rotation, as well as full swivel and tilt capabilities. More than just mounting hardware, these cantilever mounts have a tactile quality that enhances the high technology aspects of any flat panel installation.
With 36" extension, most TV units up to 65" can rotate to a full 90 degree to be perpendicular to the wall.
While Tv can be extended up to 36" from the wall, The pivot point is about 32" from the wall, so full 90 degrees can be achieved up to 32" from wall
KEY FEATURES:
36"

 

Extension Arm is the highest in industry
Dual Stud, Dual Arm Supports up to 200 lbs
Solid Heavy-Guage all steel Construction
Roll

 

option to level the screen after Installation
Cable / Cord wire management
+15/-15 degrees tilt
TV extendes 3.7" - 36" from the wall
Supports Hole pattern 800mm x 400mm (32" Horizontally x 16" Vertically)
Other FEATURES:

Cantilever Dual arm mount for flat panel tvs
Allows maximum flexibility for installing and viewing your flat panel display
Arm allows extension and 180° lateral rotation for viewing from multiple locations (depending on Tv size)
Allows tilt and swivel for optimum viewing
Black Piano finish
Includes Universal wall Plate (no extra plate to purchase)
Easy To install
Mounting hardware Included
Compatibility:
Ideal for 40", 42", 46", 50", 55", 60", 65", 70", 75", 80" LED TV
Supports latest 70", 80" Sharp LED TV
Ideal for 42", 50", 55", 58", 60", 63", 64", 65" Plasma TV
Ideal for 40", 42", 46", 52", 55", 57", 60" LCD TV